Stephanie Peltier-Leger, a talented member of Wiikwemikoong Unceded Territory on Manitoulin Island, has woven her love and passion for Indigenous beadwork into the heart of DELIAESTELLE DESIGNS. Stephanie is a gifted member of the Wiikwemikoong Unceded Territory on Manitoulin Island. Stephanie's beading reflects her ingenuity and her respect for her Indigenous background via its blend of traditional and contemporary methods and styles. She uses porcupine quills, shards of deer antler, and the meditative and complex caribou tufting process in her work.
Stephanie's path has led her to create a one-of-a-kind "beginner beading kit," sharing her skill and enabling people to connect with their culture via beadwork in the same way that she was inspired to do so by her auntie Christine.
---
Beadwork as a Mediator between the Past and the Present
Stephanie's beading journey began with visiting the Wabano health centre attending beading workshops, who passed down various techniques, from peyote stitching feather earrings to crafting baby moccasins. As a creative thinker, Stephanie saw a window of opportunity to teach others who were interested in learning about Indigenous beading the techniques she had perfected. The inspiration for her "beginner beading kit," which introduces novices to Indigenous modernized beaded, came from this insight. Stephanie's beading gracefully bridges the gap between the past and the present by combining traditional features with current techniques to create works that speak to contemporary audiences while yet paying homage to Indigenous history.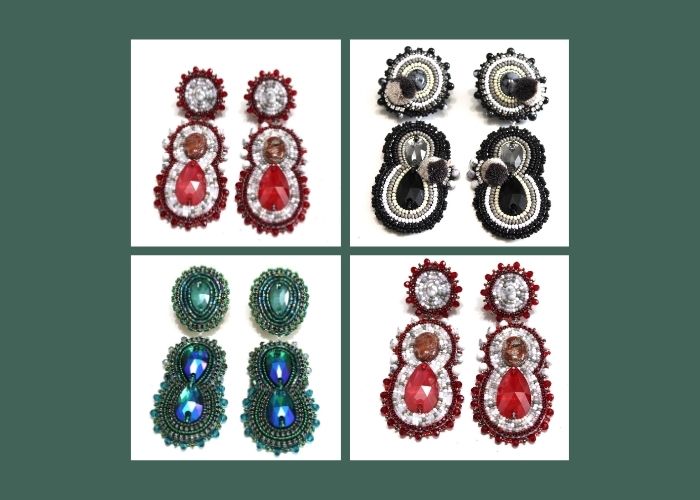 ---
Beading Kits with a Mission: Inspiring the Youth and Fostering Cultural Revitalization
Beyond being a creative endeavour, DELIAESTELLE DESIGNS' "beginner beading kit" serves a higher purpose. Stephanie's kits have made their way to a number of important venues, such as the Manitoba Mukluks workshop and the Northern Youth Abroad. They are used in youth programs all throughout the Ottawa region. Her beading kits have more implications than mere aesthetics; they become a means of personal growth and cultural rediscovery. As a result of Stephanie's efforts, a niece of survivor of residential schools relatives and daughter of Indian day school, was able to rediscover her strength, resilience, and cultural identity. This life-altering experience has given Stephanie a voice to teach others about the healing potential of Indigenous beading.
---
Embracing Culture with DELIAESTELLE DESIGNS
The essence of DELIAESTELLE DESIGNS is rooted in Stephanie's profound connection to her culture and her aspiration to share it with the world. The beading kits she offers are more than just products; they serve as vessels for cultural preservation and celebration and teaching cultural appreciation versus appropriation. Stephanie, an Indigenous entrepreneur, is dedicated to utilizing her platform to enhance the recognition and appreciation of Indigenous beadwork's beauty and cultural significance. Through her creations and the beading kits she shares, she implores others to embrace the vibrant tapestry of Indigenous heritage and actively contribute to its ongoing preservation.
Stephanie Peltier-Leger, the gifted personality behind DELIAESTELLE DESIGNS, has skillfully combined her passion for Indigenous beadwork with a strong sense of purpose. The beadwork she creates beautifully combines traditional and modern elements, showcasing the enduring artistic heritage of Indigenous cultures and captivating present-day viewers. Stephanie has been able to empower youth and individuals who are looking to reconnect with their culture through her "beginner beading kit." Her work showcases the profound impact of Indigenous art as a catalyst for healing and resilience.
DELIAESTELLE DESIGNS exemplifies the strength of entrepreneurship when driven by culture, heritage, and a profound sense of purpose. Stephanie's journey has evolved beyond mere artistic expression; it has transformed into a significant pathway for honouring and safeguarding Indigenous traditions. Stephanie is inspiring, sharing her craft and empowering others through her beading kits. She weaves the threads of her culture into the tapestry of the modern world, serving as a beacon of inspiration. Through DELIAESTELLE DESIGNS, Stephanie Peltier-Leger extends a warm invitation to everyone to appreciate the exquisite artistry of Indigenous beadwork. Beckoning us to embark on a meaningful cultural celebration and empowerment journey.
To learn about this business, the products and beading kits, browse DELIAESTELLE DESIGNS' website at https://deliaestelledesigns.com/.
IndigenousSME sheds a spotlight on the contributions made by indigenous-owned businesses that distinguish themselves through the use of unique and creative approaches. Follow our Twitter page at @IndigenousSme for more information on these businesses, or subscribe to Indigenous SME Business Magazine at https://bit.ly/42RxQuA to read more articles like this one.