In 2016, Trisha Pitura and Mélanie Bernard founded MINI TIPI, a Canadian women-owned company that creates small batch quality goods for your home and family. The brand of blankets and accessories for adults and kids are created and made in Quebec, with designs that honour their Indigenous history. 
Trisha and Mélanie reside in Gatineau with their families. Trisha Pitura is a member of the Nipissing First Nation and belongs to Sudbury, Ontario. Melanie, a teacher by profession, was born and raised in Québec City.
---
The Craft Of The Indigenous Heritage
The MINI TIPI designs are inspired by Indigenous lifestyles and the proud Canadian and Indigenous heritage. This combination develops a unique line of practical and useful goods without compromising style and beauty. They believe art should be kept alive, out of museums, and invested in to protect the storytelling and passing of traditions.
MINI TIPI products are available through e-commerce platforms like their online shop, craft markets, and select retailers across Ontario and Quebec. All their products are designed, cut, and sewn in Quebec, Canada, through their collaboration with Indigenous artists. MINI TIPI began as a small creative endeavor and, through their support for artists and celebrating culture, has allowed MINI TIPI to set itself apart and quickly evolve into a growing, thriving business.
---
The Commitment To The Society
MINI TIPI considers giving back to the community essential to their personal and business responsibility. They share resources to benefit and support others, donations to local food banks and Indigenous women's crisis centers, products with those in need to help them rise, and collaborate with Indigenous artists.
They donate their products to organizations that can pass them on to those in need and give back financially to multiple local organizations. They have chosen an indigenous organization in the community that supports women and children. They have worked with the local food bank, the Minwaashin Lodge, and the Turtle Island Initiative. All these socially responsible initiatives have allowed MINI TIPI to set themselves apart.
---
The Keepers and Practitioners of Indigenous Designs
MINI TIPI values the talent of artists and engages in fair trade by ensuring they are paid for their time, creativity and knowledge. Furthermore, their collaborative policies develop a long-lasting relationship with their artists, which enables them to continuously support their entrepreneurship with royalty programs and ensure mutual benefit in long-term collaboration.
They are passionate about their work, ensuring high quality and following human values that align with their identity as a business.
---
The Choices of Fabric
MINI TIPI ensures that the textiles they use are high-quality, eco-friendly, soft, and comfortable with vibrant fabric. Understanding the impact even small businesses have on the environment, they work towards reducing and reusing their scrap fabric to create new products, collaborate with other makers, and donate them to the Ottawa Humane Society.
Their soft and luxurious fabrics are of three types.
Everyday Blanket Collection, Shawl Collection, and Kid's Poncho Collection.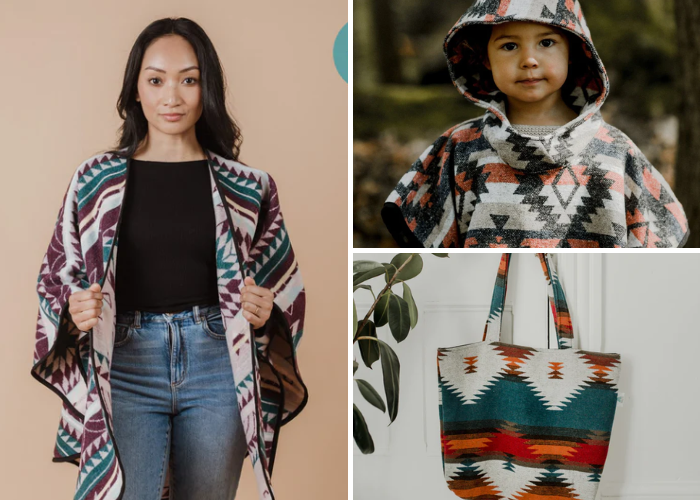 These are made out of a blend of 10% wool and 90 % acrylic. This fabric blend is soft, time-resistant, and easily washable in the machine. In addition, it has lower wool content, making it a suitable option for people with wool allergies.
---
Eco Everyday Blankets 
The blankets are made of a recycled fabric blend: 50% recycled polyester, 30% acrylic, and 20% recycled wool. This blend of fabric is soft, luxurious, soft and environmentally friendly.
---
Wool Blanket Collection 
The collection consists of blankets of 70% recycled wool, 25% recycled polyester, and 5% acrylic. It's a higher-end piece that is a perfect keepsake.
MINI TIPI supports many Indigenous artists who are knowledge keepers, expert practitioners of ancient Indigenous art or young artists who are passionate about creating art that speaks strongly to others. Their works include a unique piece of Indigenous artwork called birch biting, woodland style art, art that blends traditional with contemporary media, styles, and themes, or the Star Quilt design that symbolizes the connection to the Universe and beyond.
The support and assistance that MINI TIPI offers to the artists, aid in documenting Indigenous patterns and familiarising people with their culture and heritage, which are frequently confined in museum exhibits. They expand the possibilities for artists who often face financial challenges when delivering their work.
Through MINI TIPI, Trisha Pitura and Mélanie Bernard open a window of opportunity for Indigenous art and artists. To find out more about their services, visit their website at https://minitipi.ca/. 
Indigenous businesses initiate and contribute to economic and cultural reconciliation. To read more about these Indigenous businesses, subscribe to Indigenous SME Business Magazine at lnkd.in/gBMWGCHX and for the latest updates, check our Twitter page @IndigenousSme.