Indigenous women innately possess leadership and entrepreneurial traits. Each indigenous woman-owned business has a community development mission and incorporates its cultural values into its operations. Based on the needs of their community, they have always supported ongoing projects or created new jobs.
Here are five Native women entrepreneurs making an impact in the business world by promoting their Indigenous identity.
Mya Beaudry
The Founder and CEO of Kokom Scrunchies is 11 years old. Mya Beaudry is a young Algonquin entrepreneur from Kitigan Zibi Anishinabeg First Nation who sells
her handmade scrunchies with love in Canada.
Mya initially created Kokom Scrunchies as a fundraiser for a dance competition for her age group at the Summer Solstice pow wow. This gained momentum on social media; thus, in 2019, Mya started her small business, Kokom Scrunchies.
In the Algonquin language, Kokom means grandmother. The fabric for the scrunchies is from a scarf known as the Kokom scarf, which grandmothers used to wear on their heads when they worked outside.
Mya considers it important to give back to the community and names her scrunchies after Indigenous women who inspire her and also hopes to inspire others in her journey.
Mya wants her scrunchies to be available to everyone in several vibrant prints and patterns, young and old.
Kokom Scrunchies releases a limited edition scrunchie, named after an Indigenous woman who inspired Mya, called The Sunday Drop, and once sold out, is rarely restocked.
Kokom Scrunchies are produced within the Algonquin Territory in the Nations Capital of Ottawa/Gatineau area and can be bought in-person from one of their stockists or online through their website.
---
Meghan Weeks
Meghan Weeks founded mdw Jewelry in order to reclaim her Indigenous identity as a member of the Sucker Creek First Nation. In an effort to end the cycle of intergenerational trauma and continue her journey of healing, Weeks attempts to convey the lessons of her family's matriarchs, her childhood memories, and the Cree humour through her work.
She creates her jewellery line on unceded Coast Salish territory, where she has been learning her culture and participating in ceremonies for the past two decades, which has helped her feel at one with herself. Through some of her pieces, she tries to honour her Aunty Darlene, who is a respected elder who works with the community, and youth and is a language keeper.
In 2016, she started learning silversmithing as a long time wish to make jewelry and opened her online store, MDW Jewelry, in 2018. She makes her jewelry collection one piece at a time at home, taking her kitchen table and living room as her studio.
She takes inspiration from nature, childhood memories, and Cree teachings, and her pieces include braided cuffs, pendant necklaces, and intricately beaded earrings. She used various techniques in creating her pieces, including taking a mold of my hair, hand carving a bison out of wax, and fabricating pieces out of silver sheet and wire.
Currently, Weeks works full time running a woodshop and support first year university students in making art/design projects at Emily Carr University in Vancouver.
---
Mallory Yawnghwe
Mallory Yawnghwe hails from the Saddle Lake Cree Nation #125 in Treaty 6 Territory and is the founder of Indigenous Box, a subscription box and corporate gift service that promotes Indigenous entrepreneurship by enabling emerging, underrepresented, and established Indigenous businesses to reach new customers and enter new market spaces.
Indigenous Box, an Edmonton-based subscription service that features products from First Nations, Métis, and Inuit businesses, was founded by Mallory Yawnghwe. She is a part of Alberta's growing community of female Indigenous entrepreneurs.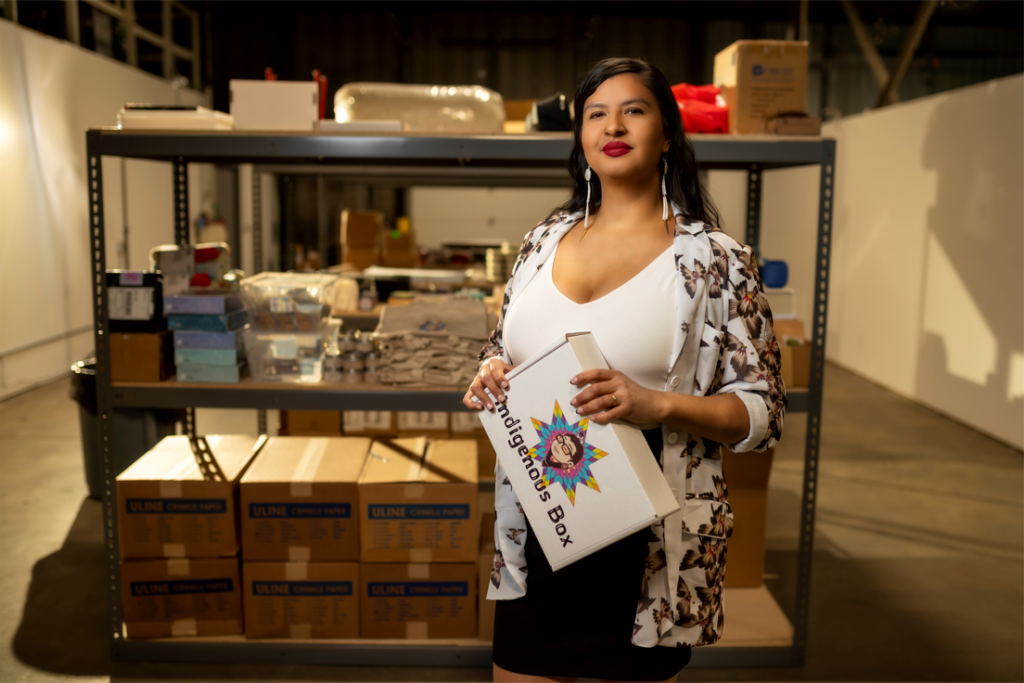 Indigenous Box's mission is to promote and elevate the good work being done by Indigenous Entrepreneurs. Its values are based on the teachings of shared abundance through reciprocity and connectedness. They are a committed team to transparency, fairness, humility, continuous learning, and bold action in their business.
She was inspired to start her business by her love for her people, whose legacy of greatness she is proud to inherit and continue. She believes that building relations and collaborations are necessary to elevate Indigenous businesses.
Yawnghwe is passionate about demonstrating to fellow Indigenous women what business leadership looks like, and Indigenous Box is that movement comprised of tens of thousands of Canadians working together to build the future they envision. The business that started in Yawnghwe's basement has expanded to a 3,500-square-foot facility in Edmonton that supports the "original supply chain" and promotes other Indigenous business owners.
---
Melrene Savoy ( Savoy-Eaglespeaker)
Melrene Savoy is a member of Alberta's Blood Tribe in southern Alberta, Canada. She quit her job in retail management to launch her own Indigenous-themed business, Native Diva Creations, which produces earrings, necklaces, body jewelry, hats, and jackets.
Melrene, a resident of Calgary, was motivated to launch her own business after attending an entrepreneur symposium in Morley, a First Nations settlement within the Stoney Nakoda Nation. This resulted in the establishment of Native Diva Creations, which produces First-nation-appropriate jewellery and accessories with a modern flair, combining the traditions of pow-wow beadwork with urban street style.
She designs and creates all of the pieces for the small business using techniques, patterns, and designs in an updated and contemporary way to suit both men and women and aims to provide authentic, handmade First Nations beaded jewelry and accessories.
As a First Nations-owned award-winning accessory business Native Diva Creations operates the business with a motto to create culturally appropriate jewelry that can be worn and enjoyed by their customers. Native Diva Creations provides additional services such as custom design work, bulk wholesale to various gift shops and museums, and creating handmade pieces.
Melrene Savoy has earned a spot to exhibit her jewelry collection during New York Fashion Week due to her signature emphasis on preserving traditional beadwork techniques while adding a contemporary twist to each piece. Savoy was nominated for the 2022 Indigenous Tourism Alberta Leadership Award. She continues to be a shining example of honouring the Indigenous traditions practised in Canada since time immemorial while retaining her artistic creativity.
---
Inuujaq Leslie Fredlund
Inuujaq Leslie Fredlund's passion for art motivated her to open Maybe Somewhere, a boutique in Rankin that sells Inuit, Nunavummiut, and Indigenous-made goods. Her store sells apparel, gifts, cosmetics and skincare, coffee, jewellery, and soap made by Nunavut and Canadian indigenous artisans. According to Fredlund, her business is about "Selling Cool Stuff and Doing Cool Things."
Fredlund was raised in numerous Nunavut communities and has made Rankin Inlet her home for the past two decades. She pursued photography in Victoria, British Columbia, after completing her education at Nunavut Sivuniksavut, an Inuit school that offers academic and cultural experiences. She has worked in numerous fields, including education, non-profit organizations, the private sector, and with the Nunavut government.
Fredlund had planned to open her store selling indigenous products at the start of 2020, but the pandemic had other ideas. In order to reduce expenses, Fredlund made a few modifications to her business plan and decided to skip the idea of a physical store in favour of a trailer-mounted mobile boutique. Fredlund decided to own a mobile boutique after being inspired by ice-cream trucks.
The trailer is a means of increasing operational space without incurring additional expenses; a solution that reflects Maybe Somewhere's values. While Fredlund waits for her trailer to be completed, she has collaborated with other local businesses to host pop-up shops. Despite her preference for in-person customer interactions, she has begun to engage in online sales. She increased her social media presence and began posting more images online.
Fredlund considers her business an opportunity for individuals to support Native-owned businesses and meet local artists. Her true ambition, however, is to one day be viewed as a viable alternative to southern conglomerates that generate profits for southern residents.
These women are examples of what a strong will, determination, and passion can help them accomplish. Increased representation of Indigenous women in business as role models encourages other Indigenous women to realize they can achieve their dreams and aspirations. As more Indigenous women enter the workforce, employment and economic independence will increase.
The influence that women entrepreneurs have on community growth is immense. To read more on such inspirational Indigenous stories of growth and success, visit our website http://www.indigenous-sme.ca/ and for the latest updates, check our Twitter page @IndigenousSme.