From the arctic tundra to the runway, Martha Kyak has taken her passion for art and sewing and turned it into a career that celebrates her Inuit heritage. Martha is establishing her mark as an Indigenous fashion designer, artist, and educator with her innovative takes on traditional and modern styles.
---
First Steps in the Process
Martha Kyak was the eleventh and last child to be born into the Kyak family. She was born at Mittimatalik (Pond Inlet), Nunavut. Martha was exposed to a wide array of artistic materials when she was growing up in a creative household that included many artists and educators. Her family also taught her the importance of hard work and devotion. She learned about the elaborate patterns and sewing skills required to make traditional Inuit clothes by seeing how her mother and sisters worked on their projects. This piqued her interest.
Martha's passion for sewing and designing continued to grow, and after graduating from McGill University, she began her career in education. She has held various positions, including teacher, principal, and superintendent, and currently teaches Inuit history, Inuktitut, and sewing at Nunavut Sivuniksavut, a college program for Inuit youth in Ottawa.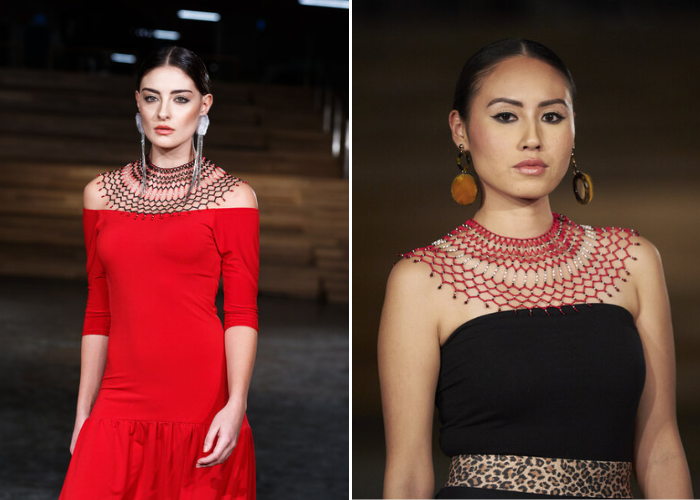 ---
Incorporating Heartwork in InukChic
While living in Pond Inlet, Martha had her own retail store selling sewing supplies and other items. It was during this time that she began to experiment with designing her own clothing and accessories. Her love for sewing and design led her to create her own fashion line, InukChic.
InukChic features clothing, jewelry, and paintings that showcase traditional Inuit designs and contemporary influences. Martha's designs are heavily influenced by her appreciation for family, community, and care, and she incorporates ulus and arctic flowers into her fabric designs. Sealskin is also featured predominantly in her clothing and accessories, paying homage to her arctic roots.
Martha has exhibited and sold her work nationwide, including several runway presentations at Indigenous Fashion Week in Toronto. Her designs have been met with critical acclaim and have inspired others in the Indigenous fashion and business industries.
---
Indigenous Women: Forces of Change in Their Communities
Martha's career in education and art has been dedicated to empowering others in her community. She embodies the capability and style aspired to by many Indigenous professionals working to celebrate their heritage and empower others.
Martha is creating a legacy that celebrates Inuit art and culture through her work at Nunavut Sivuniksavut and her art and fashion designs. Her dedication to her craft and her community is an inspiration to Indigenous women everywhere, and her work continues to inspire others in the fashion and business industries.
Martha Kyak's passion for art and design has led her down a path that celebrates her Inuit heritage and empowers others in her community. As an educator, artist, and fashion designer, Martha's work transcends mediums and inspires others to celebrate their own cultural heritage.
Want to check out Martha's designer clothing line? Check out her official website at https://inukchic.squarespace.com/niuviaksat.
If you're looking to learn more about such inspirational designers and artist entrepreneurs from Canada's Indigenous communities, then subscribe to Indigenous SME Business Magazine. This bimonthly magazine gives insight into the individual business's journey and stories of not giving up on dreams. For more latest updates, follow our Twitter page @IndigenousSme.