The Indigo Arrows is reimagining the pottery and bone tool patterns practiced for thousands of years by the Indigenous peoples in Manitoba. Their collection picks up where the ancestors left off by creating beautiful patterns to adorn home decor items.
The Indigo Arrows Line is an Indigenous-led design studio based in Manitoba that creates Indigenous-made decor in small batches for the modern home. They use beautiful patterns to adorn their pottery collections and a host of bone tools inspired by the Indigenous peoples in Manitoba.
They design and handcraft their products in high-quality linens, architectural forms, interior spaces, furniture, and textiles by respecting local Indigenous cultures. They take a critical look at the representation of Indigenous cultures within the built environment, and when designing new works, they acknowledge collaboration, community engagement, inclusiveness, and collaboration.
---
The Anishinaabe Interior Designer Named Destiny
Indigo Arrows was founded by Winnipeg, Manitoba-based Anishinaabe interior designer Destiny Seymour. She graduated from the Faculty of Architecture at the University of Manitoba with a master's degree in Interior Design. She worked as a lead interior designer at Prairie Architects Inc for the next ten years.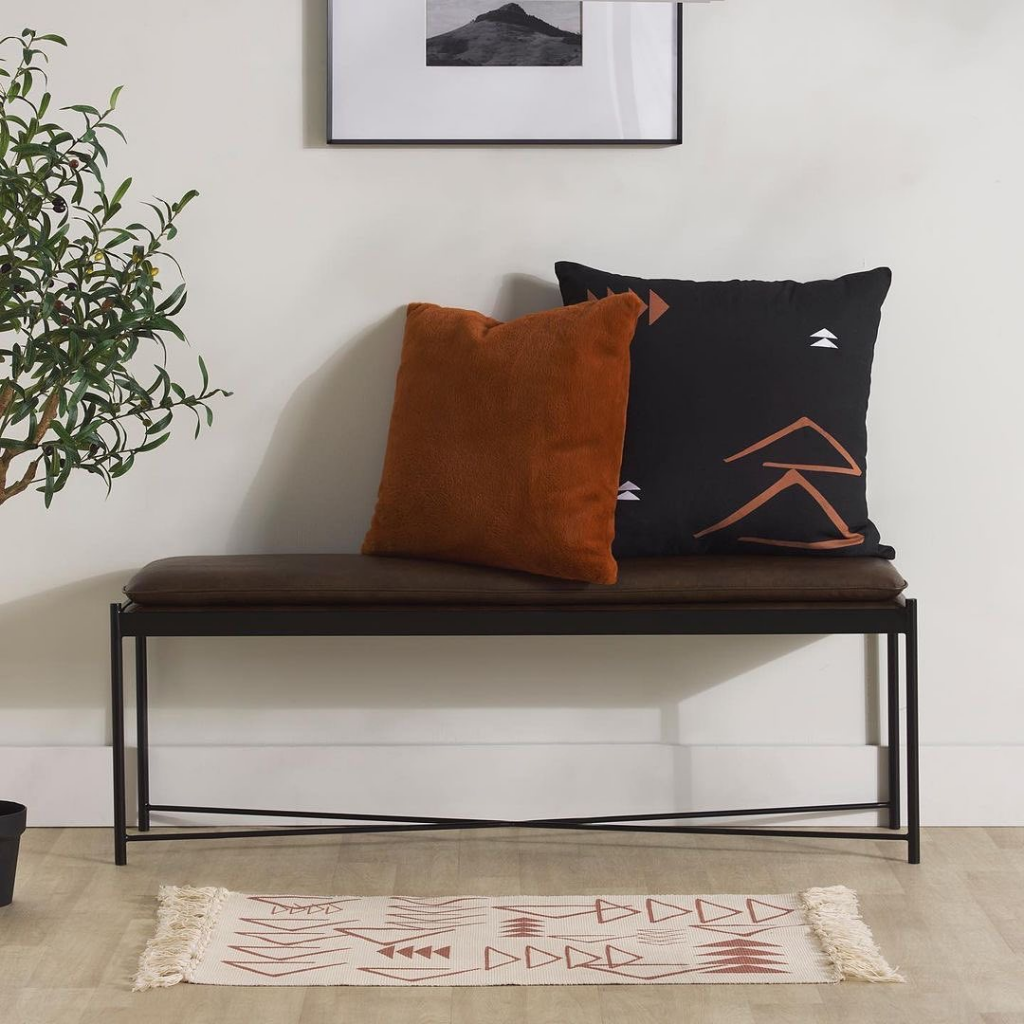 When Destiny struggled to find materials to incorporate into her design pattern, she started to design her artisan textiles. She represented the local Manitoban Indigenous people and their culture respectfully through her work.
Another reason for the Indigenous pattern incorporation was that most of the surviving patterns and pieces were housed in museums and private collections. Destiny believes people should see these patterns daily and in their homes.  She ensures this mission by using various materials and mediums to provoke thought, bridge gaps, inspire, and empower.
With a selection of tablecloths, pillows, and blankets that feature designs from 400 to more than 3000-year-old bone tools and local Indigenous ceramics, the Indigo Arrows brand continues the work of her ancestors.
In her Indigenous-led design studio, the design practice critically examines the representation of Indigenous cultures within spaces. Her design mission is to respectfully reflect local Indigenous cultures and identity within architectural forms, interior spaces, furniture, and textiles. This design process acknowledges community engagement, inclusiveness, and collaboration when creating new works.
Seymour specializes in the design of Indigenous spaces. She has experience designing libraries, schools, community centres, banks and credit unions, daycares, office buildings, gaming centres, hotels and resorts, tribal council offices, museums, cultural centres, and retail spaces. 
Destiny bases her design process on community discussions, considers regional history, contemporary life, and the needs of future generations, and uses innovative finishes to set her customers' spaces apart from those of their regional competitors.
She is a member of the Peguis First Nation who lives in Winnipeg, Manitoba, Canada, and works in Canada and the US.
Indigo Arrows products are created in Winnipeg, Manitoba, to make your space more comfortable and beautiful. To know more about their products and services, visit their website at https://indigoarrows.ca/. 
When represented, Indigenous art and patterns should be made with authenticity and respect. To know more about these Indigenous art initiatives, subscribe to Indigenous SME Business Magazine lnkd.in/gBMWGCHX and for the latest updates, check our Twitter page @IndigenousSme.