When Leigh Joseph began envisioning her business, the subject of what to name it kept coming up. She was looking for a name that would capture her business journey, the significance it held for her, and her motivation to pursue the challenging and fulfilling path of being an entrepreneur.
Sḵwálwen is the Squamish word for Heart. Though there is no direct translation to English, the closest meaning of the word is "essence of being" or "spiritual heart."
The Brand Honoring The Cultural Knowledge
The foundation of Sḵwálwen is the connection to place and culture through plants.
Sḵwálwen is a luxury Indigenous skincare brand creating botanical skin care products. They honour traditional Skwxwú7mesh (Squamish) plant and cultural knowledge, Indigenous plant science and self-care. They incorporate sustainably harvested and sourced plants and organic, high-quality ingredients. They unite ancestral traditions with modern beauty rituals and empower people to connect to themselves and the natural world.
Sḵwálwen products are crafted in the Canadian Pacific Northwest in the Unceded Territories of the Skwxẃu7mesh (Squamish) First Nation. Each product name is derived from the Squamish language to honour the place where the plant knowledge comes from.
The grounding of the business in the Indigenous cultural honors Joseph's journey and the plant knowledge she incorporates into her spiritual preparation, harvesting, processing and creative recipe development.
Joseph was particular about naming her business in the Squamish language, as it was clear from the beginning of the business that it is rooted in her personal experiences connected to cultural resurgence and healing.
The Sustainable Entrepreneur
Leigh Joseph is an ethnobotanist, researcher, community activist, and founder of Skwálwen Botanicals (squall-win). Her skincare products offer an experience grounded in the natural world and honor cultural knowledge, Indigenous plant science and self-care by uniting ancestral traditions with modern beauty rituals.
Joseph wants to contribute to reviving the cultural knowledge of Indigenous plant-based foods and medicines through her initiatives. She draws on the teaching of Indigenous plants and land passed on from family and community members.
From a young age, she was interested in the relationship between food and culture. It was influenced by her experiences of spending time with her paternal great-uncle and living with nature. The experience instilled a deep respect for the natural world and developed an awareness of how important the links between food and culture are.
She spent a good portion of her adult life thinking about the intergenerational effects of residential school on her family. She has early memories of spending time with the elders who told stories of their territory and how they were connected to the land. These elders were also people who survived the traumas that Joseph was unaware of then.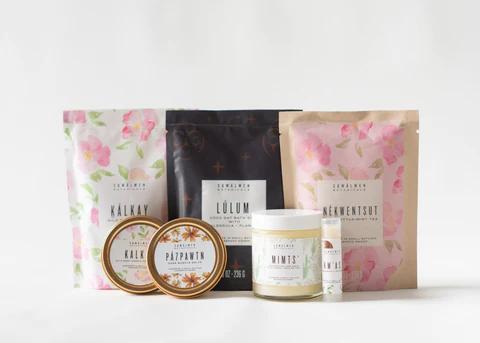 Joseph considers her connection to culture and community has come through learning from and working with Indigenous plants. Her family history has shaped her, and she believes that her work with plants can provide her two young children with a connection to the land and traditional Squamish knowledge.
As a botanist, Leigh is passionate about plant identification. She enjoys walking outside and exploring the forest, estuary, or subalpine meadows to harvest plant food and medicine. She observes plants throughout their growing season, looking for cues and signs for their harvest. Her awareness of the surroundings, connection to place and knowledge have been developed over years of experience.
According to the Skwxwú7mesh culture, plants are considered to be relatives, and they are respected. Leigh harvests plants by following the cultural teachings that ensure a sustainable relationship based on reciprocity. She takes care not to take too much of any plant to ensure that it will continue to grow and be beneficial to other life forms that depend on it for years to come.
The Natural and Ethical Process
Creating Sḵwálwen products begins with time spent on the land, forests, estuaries, or subalpine meadows to harvest plant foods and medicines. Joseph uses the Squamish cultural teachings to approach the natural world gently and respectfully, harvesting with ethical and sustainable techniques.
After harvest, they are processed by scraping bark, cleaning, hanging to dry, infusing oil, and more. Following the process, the creation begins. Leigh develops each recipe, pairing particular plants with the highest quality oils, clays, and plant butter based on their healing properties.
Each batch of Sḵwálwen products is prepared with care and intention and brings luxurious skincare products free from harsh chemicals, phthalates, synthetic fragrances, synthetic colors and parabens.
Since many Swálwen product ingredients are derived from seasonal harvests, some products are also seasonal. This increases the appeal of working with nature to take care of yourself and hoping that the next harvest season brings wonderful things.
Through their initiatives, Swálwen uplifts and strengthens Indigenous communities and the resilience of Indigenous people. For more information about their products and initiatives, visit their website at https://skwalwen.com/. 
Indigenous businesses approach sustainability and ethical sourcing with great care and importance. To read more about these sustainable businesses, subscribe to Indigenous SME Business Magazine and for the latest updates, check our Twitter page @IndigenousSme.