Larissa Crawford: Imparting Indigenous Culture As Ancestors Of The Future 
In November 2019, Larissa Crawford left her last employment position due to the overt racism, ageism, and ableism she experienced in the workplace. Taking things into her own hands, she decided action planning to start a business in intergenerational family knowledge exchange sessions.
In 2020, Larissa found Future Ancestors Services Inc. using personal savings and, within a year of business, had 200 clients. Their demand continues to grow, with racial and environmental justice bubbling into mainstream social consciousness. They benefit significantly from the work of frontline activists and continue to pursue opportunities for reciprocity.
In 2022, they are focused on building administrative support, shaping organizational direction with decolonial and Indigenous teachings, re-launching their direct community support such as live events, the Constellation, and their grant fund, and bringing on new team members.
---
The Founder And Managing Director
Larissa Crawford is a Métis, Jamaican, Afro-Indigenous, young mother and a disabled person with Penetanguishene Métis and Jamaican Afro-Caribbean ancestry. She leads and contributes to contracts and services that center on anti-racism, climate justice, public policy and governance, global development, youth engagement, indigenous engagement, and decolonization.
In June 2018, Larissa received her Bachelor of Arts in International Development and Communication Studies from York University. She has worked to start a library in Accra, Ghana, volunteered in Istanbul, Turkey, and represented her university at several global United Nations events. In addition, she has led several anti-racism and Indigenous research initiatives at the university.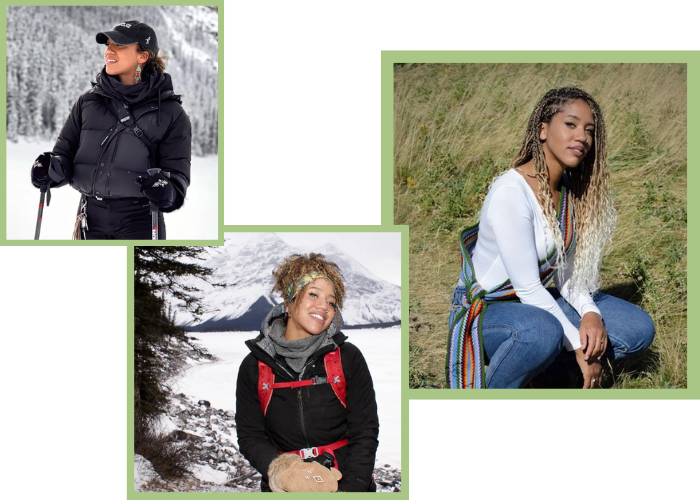 Shortly after, she brought this experience to the Ontario Anti-Racism Directorate and the Ontario Ministry of Energy as a policy advisor, Indigenous Grant Coordinator at Alberta Non-Profit, and Indigenous Policy Advisor at York University. Larissa's expertise has led to her specializing in climate justice, public policy, accessibility, restorative circle keeping, Indigenous and anti-racism research, race-based data gathering, and restorative practice and conflict resolution.
Larissa Crawford is a published Indigenous and anti-racism researcher and policy advisor with more than 13 years of experience. Through her initiatives, she is proud to impart Métis and Jamaican ancestry to her daughter, Zyra.
---
The Ancestors of the Future
Larissa founded Future Ancestors Services as a youth-led professional services social enterprise that operates at the intersection of climate and racial justice.
As future ancestors, Future Ancestors Services supports clients and the community in honoring their responsibilities as future ancestors and shaping the just and sustainable futures the next generations will inherit.
It is an Indigenous and Black-owned, youth-led professional services social enterprise that advances climate justice and systemic barrier removal through the lenses of anti-racism and ancestral accountability.
They support clients and the community in resolving structural problems that disadvantage certain groups of people, their connections to the land and others, and the health of the Earth while focusing on decolonized and Indigenous practices.
They are an intergenerational team of Black, Indigenous, racialized, Queer, disabled, and Francophone professionals and advisors. Through this team, they provide speaking, training, research, consulting services, and influencer and interview services to diverse clients.
All their initiatives and partnerships aim to advance climate justice, decolonization, and anti-racism. They specialize in accessible, anti-ageist, anti-racist, bilingual, and transformational service delivery and do not accept contracts that go against their commitments and responsibilities.
---
The Service Provider With Intention
​Future Ancestors Services are intentional about how they 'do business.' As a company accountable to its community, they ensure that its works suit the best for people, kin, and Earth. They believe that by supporting their clients through services, they are improving the capacity to create better spaces and work outputs that honor people and the environment in the past, present, and future. 
​
Larissa continues to gain knowledge on Northern Indigenous climate knowledge, climate policy, anti-racism opportunities in environmentalism, and conducting business using conventional and decolonized methods through initiatives like the Students on Ice Arctic Policy Cohort, the CohortX Climate Justice, Action Canada, and the Youth Climate Lab FutureXChange fellowships, the Raven Trust Capital Fireweed Fellowship, and the Arctic Policy Cohort.
Larissa Crawford has received much recognition for her committed service. In 2020-21 she was named on The Women of Influence Top 25 list, Refinery Canada's 29 Powerhouses, York University's Top 30 Under 30 alumni, HuffPost's 26 Indigenous Influencers to Follow, and the Pollution Probe Equity in Sustainability Award.
Larissa Crawford and ​Future Ancestors Services are working towards the decolonization of time, localizing language by the commitment to the North Conflict Resolution Southern Michif Language. To learn more about their programs and initiatives, visit the website at  https://www.futureancestors.ca/. 
Indigenous entrepreneurs and businesses are being recognized across Canada for their community-driven transformative initiatives. To read more on these businesses, subscribe to Indigenous SME Business Magazine at lnkd.in/gBMWGCHX and for the latest updates, check our Twitter page @IndigenousSme.