A paradigm-shifting wave is reshaping cultural norms as well as economic dynamics in the landscape of Indigenous enterprises. As the Indigenous economy continues to grow, it is crucial to acknowledge and highlight the significant contributions of Indigenous women in driving this progress. The narrative of Indigenous economic resurgence is intricately intertwined with their ingenuity, leadership, and vision. The 2nd annual Indigenomics SHE Conference is set to take place on September 18-19, 2023, at the esteemed Fairmont Hotel in Winnipeg, MB. This conference serves as a crucial platform to empower and honour the remarkable women in the field, promoting meaningful discussions, connections, and initiatives in the realm of Indigenous economic reconciliation.
Indigenomics SHE is an exceptional event that offers a vibrant combination of inspiration, collaboration, and empowerment. Attendees can look forward to a transformative experience at the event, which aims to amplify the voices and contributions of Indigenous women. The event will offer inspirational breakouts, skill-enhancing workshops, and valuable networking opportunities. What's more, the centrepiece of the event is the Unique Indigenous Market, a lively space that honours and showcases Indigenous entrepreneurship and creativity.
That's not all; Indigenomics SHE boasts an awe-inspiring lineup of over 20 accomplished Indigenous women who are at the forefront of driving economic growth within the remarkable 100-billion-dollar Indigenous economy. These exceptional speakers will offer their valuable insights and expertise in various fields, including procurement, investment, equity ownership, trusts, entrepreneurship, finance, and technology. The event not only sheds light on the pivotal role of Indigenous women in the economic landscape but also empowers attendees with tangible strategies to foster economic advancement and equity.
---
Echoes of Leadership and Resilience
At the core of the Indigenous economy, a beautiful harmony of voices emerges, echoing the inspiring stories of Indigenous women entrepreneurs who have overcome challenges and forged their own paths to achieve success. The Indigenomics SHE Conference goes beyond being just a gathering. It serves as a platform to amplify the voices of Indigenous people, showcasing their leadership and resilience in a vivid manner. In the midst of a rapidly expanding Indigenous economy, this event shines a light on the inspiring stories of Indigenous women who are creating impressive narratives of economic success, innovation, and empowerment. The stories of these individuals showcase how Indigenous businesses are influenced by both tradition and modernity, reflecting the larger narrative of Indigenous resurgence.
---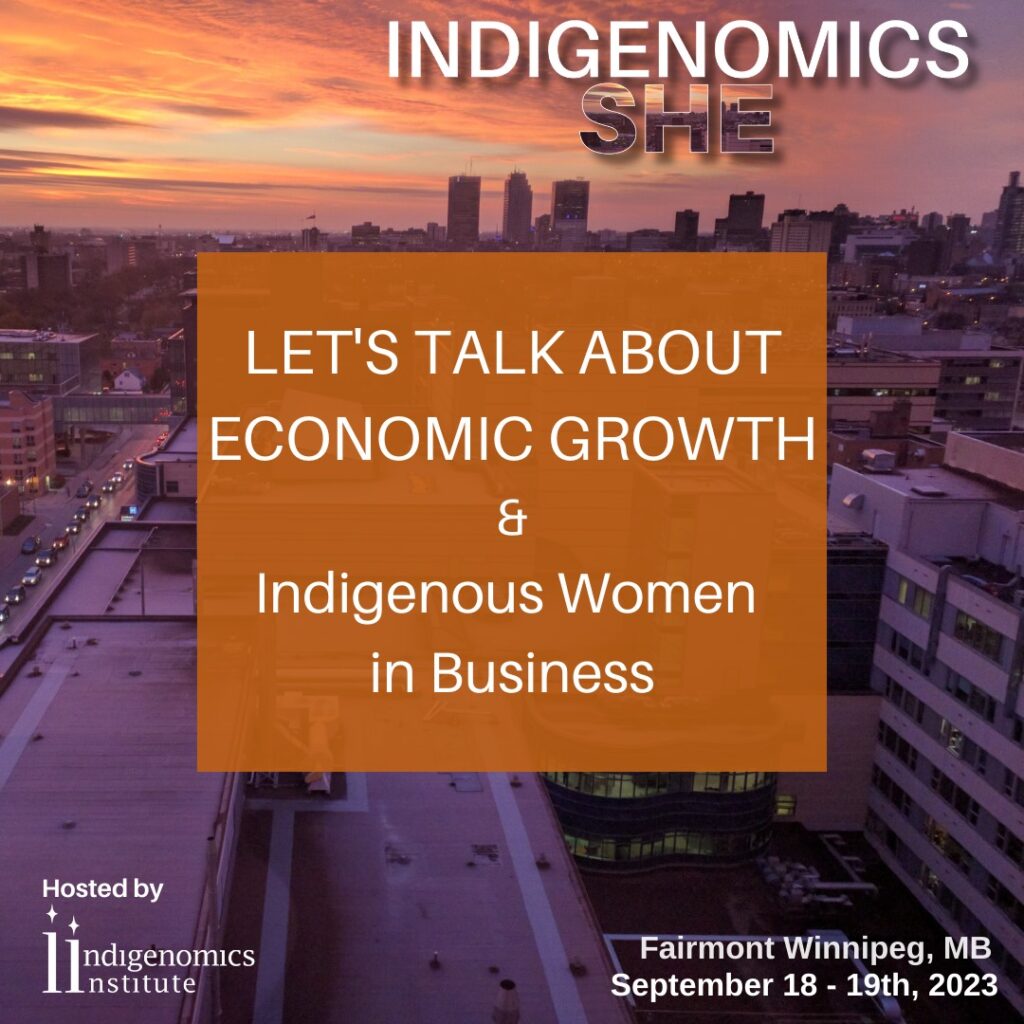 ---
Exploring Routes for Collaboration and Maximizing Impact
The conference has a dual significance. Firstly, it provides an inclusive space for Indigenous women entrepreneurs. Secondly, it serves as a hub for allies, industry leaders, and professionals who are committed to Indigenous economic development. The event offers a unique chance to promote collaboration across industries, going beyond conventional limits and unlocking the potential for mutual economic growth. The attendees of the event include Indigenous women entrepreneurs who are paving their own path, as well as finance and economic development professionals who are committed to making a significant and positive difference. The diverse gathering of individuals fosters an environment where stories, experiences, and expertise come together, sparking discussions that generate practical strategies for building a more inclusive and prosperous Indigenous economy.
---
Beyond Boundaries: A Platform for Growth
The Indigenomics SHE Conference offers a range of opportunities that extend beyond the event dates. The event incorporates various components such as inspirational breakouts, workshops, relationship-building sessions, and a unique Indigenous Market. These elements are interconnected to provide a comprehensive and well-rounded experience for attendees. The Indigenous Market is a platform that not only acknowledges and appreciates the skill and artistry of Indigenous craftsmanship but also highlights the various products, services, and innovations that emerge from the Indigenous business ecosystem.
The event's impact is primarily driven by the exceptional speakers, consisting of more than 20 Indigenous women leaders. These leaders represent various fields, such as procurement, investment, equity ownership, trusts, entrepreneurship, finance, and technology. The combined knowledge and experience of these individuals go beyond specific industries, shedding light on various ways to achieve economic growth in Indigenous communities. Attendees are able to gain a comprehensive understanding of the Indigenous economic resurgence through the sharing of insights, challenges, and successes. This provides a broader perspective on the complex and interconnected nature of this resurgence.
In the current landscape of Indigenous businesses making significant progress, Indigenomics SHE emerges as a catalyst for transformation. It promotes cooperation, inclusiveness, and the elevation of marginalized perspectives. The conference offers a range of workshops, networking opportunities, and a platform for Indigenous women to share their perspectives. It aims to go beyond being a simple event and instead serve as a catalyst for a new era of economic prosperity. This prosperity will be guided by principles such as respect, partnership, and growth.
Come join our hands as we make real endeavours to empower and emancipate Indigenous women in the Canadian business and trade sector; log onto https://indigenomicsinstitute.com/events/she/.
IndigenousSME aims to highlight the valuable contributions made by businesses owned by indigenous individuals, which are characterized by their distinctive and innovative approaches. Please consider following our Twitter page, @IndigenousSme, for further updates on these businesses. Additionally, you may choose to subscribe to Indigenous Small and Medium Business Magazine by visiting the following link: https://bit.ly/42RxQuA.