In the bustling landscape of modern Indigenous entrepreneurship, one woman is standing out and making a profound impact on Turtle Island. Meet Vanessa Marshall, the visionary CEO and founder of Jack59 Inc. Her journey from a dental assistant to a leader in sustainable hair care products is not just inspiring but deeply rooted in her Indigenous heritage and a commitment to planet Earth as a whole. Through Jack59, Vanessa is not only reducing plastic consumption but also leaving an indelible mark on the world of sustainable business.
Through this blog, the Indigenous SME Magazine honours and acknowledges Vanessa Marshall's grit and resilience to stand faithful to the greater cause of sustainability and community in Canada.
---
A Humble Beginning with a Powerful Vision
Jack59's story began as an unconventional soap-making hobby in Vanessa's kitchen back in 2015. However, it didn't take long for this passion project to outgrow its humble origins. A basement facility followed, but the company's growth was relentless. In 2020, Jack59 was officially incorporated and relocated to its current facility. The path to success may have been unconventional, but a resolute vision of sustainability and quality drove it.
---
Nurturing the Earth and Healing Intergenerational Trauma
Vanessa's deep affinity for nature can be attributed to her formative years spent in northern Alberta. Her familial background contributed significantly to her profound affection for the environment, as she was exposed to teachings on the importance of composting, gardening, hunting, and fishing from both sides of her family. The first teachings served as the fundamental basis for her endeavour to save the environment.
Yet, Vanessa's journey wasn't without its challenges. She faced the shadows of intergenerational trauma and battled addiction. However, with unwavering support from those around her, she emerged from that dark chapter stronger and more determined than ever. Today, Vanessa sees her past struggles as a part of her story but not her identity. She's transforming her experiences into positive actions that benefit her community and the world.
---
Investing in People and the World Around Us
Since its founding in 2020, Jack59 has seen nothing short of phenomenal growth. Their sustainable products have gone from being sold at a single farmer's market to being carried by big chains like Safeway, Sobey's, and the Hudson's Bay Company.
Vanessa's success doesn't stop at business growth; it extends to creating a supportive work environment for her employees. She believes in flexible work hours, a living wage, and providing ample support to her team. Vanessa's compassion and commitment to her employees are a testament to her character as a leader.
Beyond the business and profitability, Vanessa is determined to give back to the community. Jack59's pink compostable shower container, for instance, contributes proceeds to breast cancer awareness. Vanessa hopes to donate a portion of the revenue from selling her children's shampoo bars, conditioner bars, and detanglers to Indigenous nonprofits in honour of Truth and Reconciliation Day. Jack59's hair products will be donated to Indigenous charities, and she plans to create a scholarship fund for Indigenous students interested in environmental science.
---
Words of Encouragement for Aspiring Indigenous Entrepreneurs
When asked about advice for fellow Indigenous women entrepreneurs, Vanessa's wisdom shines through. She urges young dreamers to hold fast to their aspirations, never letting the doubters deter them. In a world where naysayers may try to dampen your spirits, she emphasizes the importance of self-belief and the support of those who genuinely encourage your journey.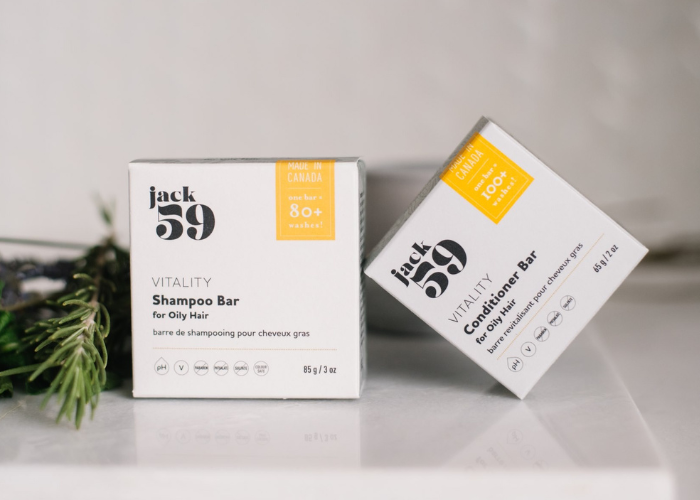 "You can absolutely do anything that you want to do. And don't let anybody tell you different," Vanessa passionately asserts.
Vanessa Marshall's remarkable journey from a small-scale soap maker to a thriving CEO of a sustainable hair care brand is a testament to the power of passion, perseverance, and purpose. Her commitment to environmental sustainability, community support, and unwavering spirit make her the Business Woman of the Month – a beacon of inspiration for us all. Vanessa's story is not just about success; it's about resilience and the transformative power of dreams. Check out Jack59's wide range of soaps, shampoo bars and other related products at https://www.jack59.ca/.
The Indigenous SME Magazine is a valuable resource for small Indigenous businesses in Canada, including nascent and well-established Indigenous enterprises. To access our magazine, kindly go to the following website here. You can stay informed of up-to-the-minute news; please consider following our Twitter account at @IndigenousSme. We invite you to join our community, comprised of individuals passionate about the field of business.