Art is political and has always been a means to raise the voice of the unheard. However, when art is tapped into a potential commercial endeavour, the reach of the voice becomes wider. Among the small businesses, Indigenous-owned businesses have always taken their community ideas one step closer to the world. 
Lesley Hampton is one such entrepreneur who, through her role as a fashion designer, has used her fabric to represent the spirit of her community's culture and values, thereby narrating the stories of the people of the land. Her work also focuses on body positivity, mental health, and the correct representation of the Indigenous community in the arts and media. 
Hampton's work is a form of activism, with each decision and choice making a statement and creating a subversion in the fashion industry. This includes taking in runway models who identify as Indigenous, the collection including works that evoke the memory of dark dates in the history of the Indigenous people, and the decision to create dress sizes 2-10 for one Fashion Week. 
The Woman of the Month title has been given to Lesley Hampton for all her accomplishments and contributions.
---
The Birth of a Third Culture Matriarch
Lesley Hampton had a modern nomadic life growing up; she feels most at home on a plane. Constant relocation in the early years of her life made her identify as a "third culture kid' with her memories of growing up spread across Canada's Arctic and Atlantic, Australia, England, Indonesia, and New Caledonia.
Hampton is a Temagami First Nation of Northern Ontario member and defines herself through the combination of her Anishinaabe indigenous identity and nomadic upbringing.
Having a multicultural background of being a child of an Anishinaabe mother and Scottish father, Hampton has faced lateral violence from her community, which has only motivated her to reconnect with her culture and community roots. Through her art and activism, Lesley continues to reclaim her culture and give back to its growth and representation.
An alumnus of the Department of Arts at the University of Toronto, Lesley went on to pursue fashion at George Brown College. During this period, she began her career in 2016, aged 22.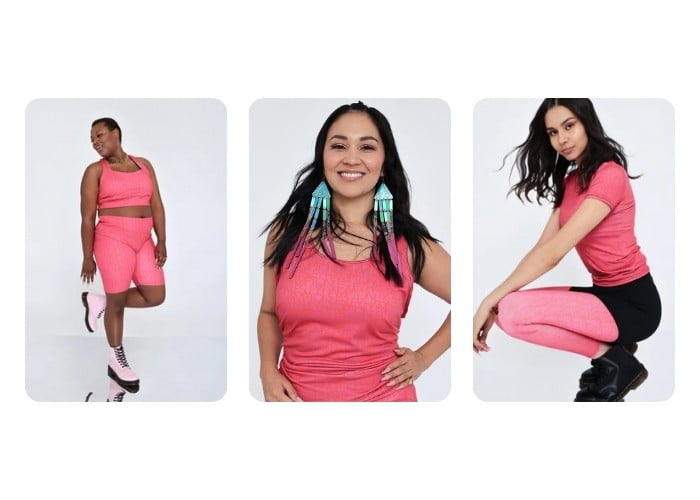 ---
The Beginning of Fabric Activism
Lesley Hampton owns a self-titled clothing and accessory brand founded in 2016, which is an Indigenous-owned, women-led, size-inclusive fashion brand based in Toronto, Ontario, creating high-quality fashion.
Each Lesley Hampton Collection narrates a history of oppression, discrimination, and cruelty inflicted on the Indigenous community, thereby trying to decolonize the euro-centric standards in the fashion industry and create space for empowerment and representation in fashion, film, and media. 
She entered the industry as a game changer, wanting to bring visibility to women of all body types and skin types in the fashion industry. Her youth and idealism thrilled her to bring inclusivity to the industry through her ventures, making her realize the struggle behind it.
Each piece was a statement that turned her into an important indigenous face in the Canadian fashion industry. She has taken inspiration from her Indigenous background to create her work by emphasizing authentic representation.
Her efforts to make a difference in the fashion industry have been reflected in runways being walked by indigenous, plus size, disabled, and albino women, exciting discussions on body positivity, the importance of mental health, and the value of diversity and inclusivity.
---
The Fashion Politics
Lesley Hampton gives each piece in her collection a title that reflects her relationships and community bonding.
Third Culture Matriarch
An exploration of Lesley and her mother's relationship as both grew up as third-culture kids and spent a considerable part of their early years outside their own culture and country.
Creatures of the Present
The Fall 2021 collection in Turtle Island was inspired by fellow Temagami First Nation member Benjamin Chee Chee's artwork, reminiscent of flowing, graceful, and minimalist art.
Eighteen Seventy-Six
The Fall/ Winter 2019 collection was dubbed 1876 as a reminder of the passing of the Indian Act, where she incorporated beaded knit, pleated pleather, crepe and cashmere without directly drawing from Indigenous designs.
Hampton brought historical references to the collection by using nude tulle embroidered with red dots to represent the missing and murdered Indigenous women.
The collection was presented at Toronto Fashion Week with all indigenous runway models.
Through her work, Lesley's career goal is to widen the space available for Indigenous creative voices in Canadian media.
For more information about Lesley Hampton, visit lesleyhampton.com.