Paul Gaspar is director of small business for UPS Canada. His role is to educate and guide small businesses in Canada on ways to better leverage UPS' tools to help them grow and expand both domestically and internationally. With his team of small business ambassadors, he empowers small business owners to determine the best mix of customized services, technologies and innovations available to them.
While Paul has been in his current position since 2011, his career with UPS began in 1991 in operations. Through several roles, he discovered a passion for working with small businesses and helping them thrive. He now leverages his growing network of entrepreneurs and the focused learnings of SME supply chains to improve the success rate of small businesses looking to scale and go global.
---
What should Canadian businesses be concerned about in the current export market?
From a macro perspective, market forces are pushing global trade to the forefront, especially at the strategy and planning stage. Technology is making it easier to do business around the world, but that also raises customer expectations. We continue to see supply chain fallout from COVID-19, with companies looking to diversify risk in their global supply chains and mitigate increased costs and timing. Directly within logistics and fulfillment, we're seeing increased urbanization change delivery models, creating both opportunities and challenges. Of course, ongoing global impacts like the increase in fuel costs also affect small businesses, often disproportionately.
---
What are the main challenges for Canadian SMBs choosing to export their goods?
Taking your business global is a big undertaking. However, the gains are unquestionable. We continue to see logistics ranking highly among overall export challenges. UPS's SMB Trends Watch report for Q2 2022 showed that expensive shipping rates, long delivery times and the cost and complexity of handling customs are the biggest challenges facing Canadian SMBs.
While challenges are numerous, at UPS, we have support for businesses experiencing issues in many of these areas. Our small business solutions can help with optimizing costs, streamlining customs headaches and giving businesses a clear view of where their shipments are at any time.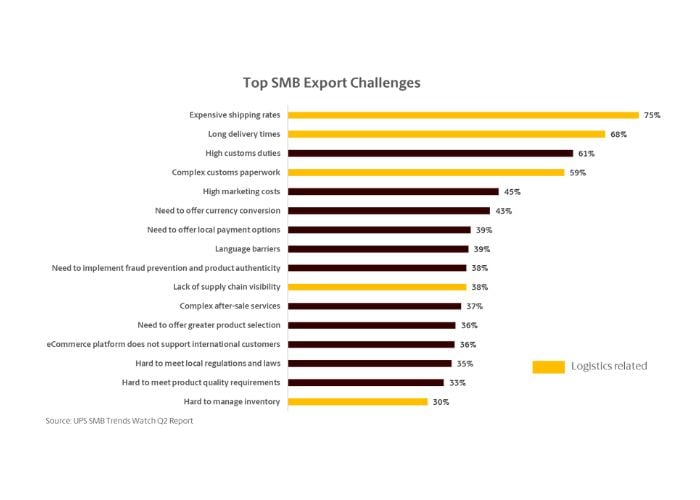 ---
What is the benefit to a Canadian company in choosing to export?
Consumers around the world are choosing to buy more from international retailers, and data shows us that Canadian businesses benefit from entering the global field. In Canada, we have 15 free trade agreements in place with countries and groups around the world, reducing the barrier to entry and reducing costs with reduced or eliminated tariffs.
We see investments made into export development pay off in a variety of ways. Export Development Canada highlights seven reasons why Canadian exporters are more successful, including increased revenue, faster growth, diversified risk, better longevity, improved connections, increased competitiveness and more innovation. At UPS, we see the importance of logistics helping small businesses to succeed in these ways, as reducing friction along their supply chains keeps Canadian businesses agile and able to play in the global market successfully.
---
Where should small businesses focus as they think about developing their export offerings?
I think you can tell that I'm a supporter of going global, but my main caution for customers is customs and regulations. It is critical that a business completes its due diligence and gets it right. Before you ship, know what your product is and where it is going, which forms are needed, when it needs to get there and how to prepare your package. We always recommend looking into the Canada Border Services Agency's SME toolkit to ensure small businesses have considered all that goes into global shipping.
It's also important for businesses to consider their value proposition in the global market, and that does include tailoring offerings to what customers want. International customers expect speed and convenience when making a purchase, and that includes customs duties. Our latest Trends Watch told us that the majority (62%) of small businesses offer delivery duty unpaid, whereas customers prefer delivery duty paid. Aligning with these preferences can be a key differentiator from your competition.
---
Is there anything else small businesses should consider as they think global?
First, returns are a key area. Consumers increasingly expect a return option, but many businesses don't have a clear structure. Simplifying the process and offering multiple options can build returns on your return policy, so to speak, and make it a competitive advantage. Second, across the board, increasing accessibility by having multiple options available will set your business apart. More choices, especially in logistics, improve customer experience.
Finally, ask for help! Our team of small business ambassadors can help find solutions that are tailored to even unique business needs. We're here to help businesses with the small stuff so they can stay focused on the bigger picture. You can learn more here.