Chef Heat Laliberte was refining his charcuterie and butchery skills when he came across an advertisement for the Aboriginal Business & Entrepreneurship Skills Training program at the Vancouver Aboriginal Friendship Centre. This drew his attention to entrepreneurship opportunities in Canada when he got accepted to the program, which helped him develop a business plan to start One Arrow Bacon.
---
An Experienced Cook With A Demonstrated History
Heat Laliberte has experience in the hospitality industry and has worked in a number of top restaurants and hotels in Vancouver, including Blue Water Café, the Fairmont Pacific Rim hotel, and Westin Hotel brands.
A skilled professional in catering, food and beverage, Garde Manger, hotel management, and cooking, Laliberte began his career as a chef in 2005. He is a strong operations professional with an ITA level 2 focus in Culinary Arts/Chef Training from Vancouver Community College.
Laliberte belongs to the Cree-Metis community and has spent the early period of his youth on the prairies of Saskatchewan. In 2002, he moved to Vancouver, which he considers home.
He began working at 22 as a cook in Davie Village. This experience inspired him to the dinner service and the kitchens' camaraderie, and have attended Vancouver Community College's Culinary Apprenticeship Program.
His culinary hard work has led him to cook for world-class athletes at the 2016 Summer Olympic Games in Rio de Janeiro and the 2018 Winter Olympic Games in Pyeongchang, South Korea.
---
A Path of Personal Growth
In 2017, Laliberte came across an advertisement for the Aboriginal Business & Entrepreneurship Skills Training Program. This encounter sparked his passion for personal growth, which drives him to participate in the entrepreneurial and skills training program at the Vancouver Friendship Centre.
The program promotes the entrepreneurial spirit of people, communities, and organizations. Laliberte made the best out of this experience, where he worked diligently to combine his 15 years of experience in the culinary world with his love for the community to create a product to be proud of.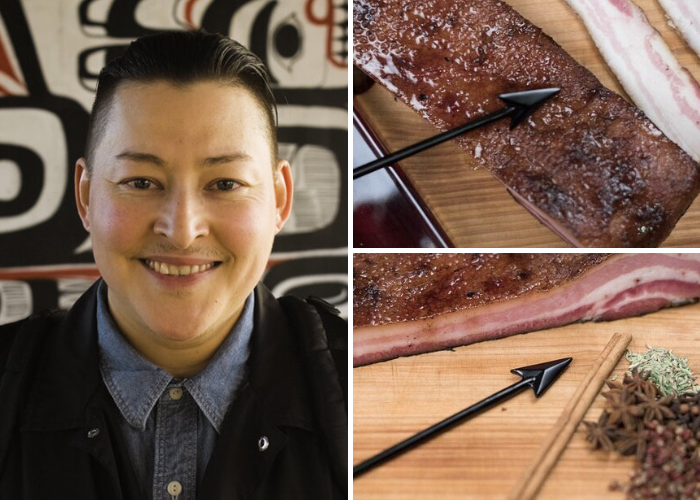 In 2016, he graduated from the Aboriginal Business and Entrepreneurship program and began to save his salary toward self-funding One Arrow. The business is his artisanal, handmade, naturally-smoked bacon business that uses local, ingredient-driven bacon.
Since the summer of 2017, One Arrow has made its way from the Vancouver Farmers' Market stall to the shelves of Vancouver's best artisan butcher shops and local grocery stores.
---
One Arrow Offering Indigenous Taste
One Arrow is an Indigenous-owned and operated business in Vancouver that specializes in small-batch, handcrafted, and naturally smoked artisanal bacon. They offer four iconic flavors of bacon with unique dry rubs, including Black Pepper and Honey, Hickory Smoked Maple, Chinese Five-Spice, and for the health-conscious, a sugar-free "Salt & Smoke."
Laliberte follows wellness and ethical food sourcing and has always committed to developing genuine relationships with vendors and customers, which has built a solid foundation for the consistent growth of One Arrow. 
He uses local and premium quality ingredients such as Maple Sugar Shack Extra Dark Maple Syrup and Vancouver Island Sea Salt. In addition, One Arrow uses only locally sourced Fraser Valley Pork, and the hormone-free pork from Johnston Farms is 100% naturally smoked.
---
The Recognition of Commitment 
Chef Heat Laliberte has been recognized for his commitment to food sourcing, quality, and his passion for the culinary arts. He was named one of the Top 50 Entrepreneurs by Native Business, a list that raises awareness of the innovation, professionalism, competence, and tenacity demonstrated by Native entrepreneurs across Indian Country. In addition, he is the recipient of the 2016 Fairmont Pacific Rim's top prize and was named "Star of the Year."
In 2019, he was named the winner of This Sandwich, That Beer Throwback Throwdown paired with "The Beer Farmers" from Pemberton and the Outstanding New Product 2019 "From the Ground Up" Trade Show.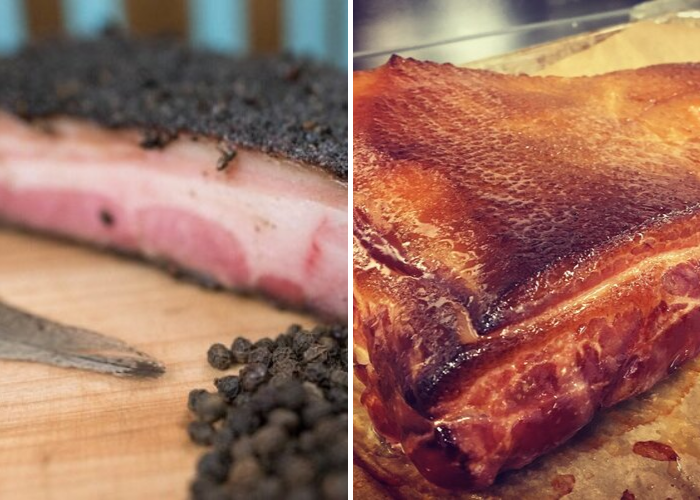 Through his One Arrow, the two-spirited Cree-Metis chef is a socially conscious entrepreneur who is deeply connected to the community and wholeheartedly supports the DTES Youth Program "Good Food for All." They donate delicious bacon and culinary skills to local LGBTQ2A organizations and events.
One Arrow bacon is 100% naturally smoked and made fresh weekly in Burnaby, BC. To know more about their products, visit their website at https://www.onearrowmeats.com/. 
Indigenous businesses are committed to the community. To know more about these ethical businesses, subscribe to Indigenous SME Business Magazine at lnkd.in/gBMWGCHX and for the latest updates, check our Twitter page @IndigenousSme.